Devitalizers for Combines
Conform with government regulations the easy way.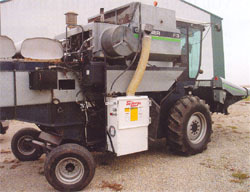 Devitalizing regulated seed is a government requirement. The question is how best to conform with this government requirement without disrupting your harvest operations.
The Spreader has the answer to this question. They have been retrofitting single plot harvesters for the past four years and have a track record of many successful "Grinder on Gleaner" conversions. This design modifies an industrial hammer mill to be mounted on and driven from the combine. A hydraulically driven auger with a control valve delivers grain from the sump of the weigh bucket to this grinder when the valve is in the "on" position. The cracked corn that's discharged from this grinder is completely devitalized. With the valve in the "off" position for unregulated crops, grain is discharged from the weigh bucket to the combine hopper as before.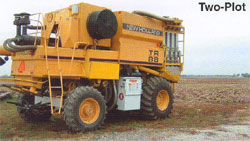 Operation of the plot harvesting combine is not affected by the grinder installation whether it is in use or not. The power requirement for the grinder when it is in use is minimal and the operator will notice no difference in combine operation.
A prototype of the devitalizing grinder has been completed for a two-plot harvester and it is available for production as well.
Contact us for any additional questions on the grinder conversion for either single or two-plot harvesters.